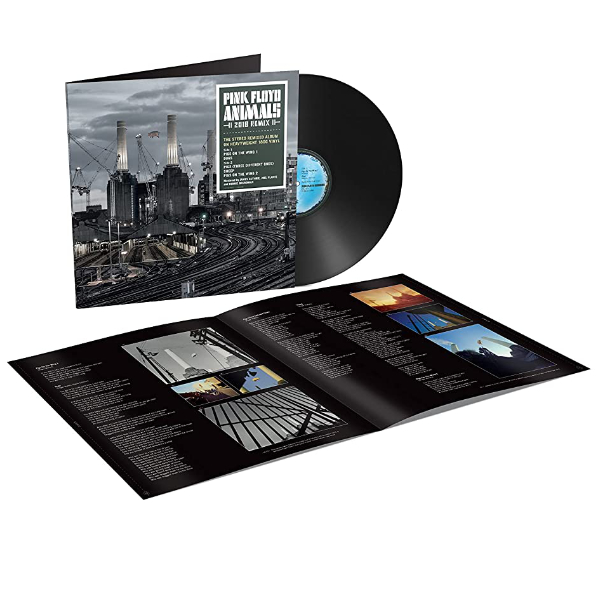 The breadth of music heard on Pink Floyd's 2018 New Animals remix shines through, but some copies of the first pressing of the 180g LP are experiencing playback issues
If you follow us regularly on AnalogPlanetthen you're probably well aware that Pink Floyd's legendary and beloved – but surprisingly often overlooked – concept album from January 1977 Animals finally received a well-deserved facelift in the form of a brand new stereo remix officially dubbed the Animals 2018 Remix. Released on 180g black vinyl with a brand new reimagined update of the iconic album cover, the new incarnation of this Top 5 hit (#2 UK; #3 US ) is in many ways an entirely new listening experience, revealing details. only mentioned in the original editions. That said, this new vinyl edition is not enough 100% perfection, but it is damn close.
[MM notes: For further Animals-istic Floydian background, you can read Mike Mettler's exclusive interview with Pink Floyd drummer Nick Mason here, and also find all the relevant Animals 2018 Remix LP release info and specs here. –MM]
For those of you who may have bypassed the Animals tract, I thought it might be helpful to paint a picture of the album's first few minutes by offering a snapshot of the journey ahead. Pink Floyd's Animals starts off quietly with acoustic and folk guitars before exploding into an aggressive swing rock groove. Those woodsy, dual-track acoustics give way to David Gilmour's layer-rich Stratocaster and Nick Mason's bubbling drums in side one's epic opener, "Pigs on the Wing (Part One)" and "Dogs." . To listen Animals is a bit like taking a plane in the upper atmosphere, actually.
Listen to James Guthrie's 2018 stereo remix of Pink Floyd Animals on vinyl is generally a nice detailed listening experience. This new mixture — or, in the collective/official parlance, Remix — is an improvement over the original editions in almost every way. (Remember this key word almostbecause we'll get to exactly what that means in a moment.)
The new 180g edition of Animals, which was pressed at Record Industry in the Netherlands, easily outperforms my original promotional vinyl from Columbia Records US. More importantly, this new release sounds like Animals should ring. There's a lot more detail and presence around the instruments, with increased clarity and separation. The voices are also much more direct. An incredible sense of showmanship is more apparent here, something that wasn't so immediate before. Just listen to that haunting first mid-section of "Dogs," where the music is reduced to a sonic boom-like thump – aka Mason's heavily reverberating bass drum – in the distance, while Richard's synthesizer solo Wright weaves a connective musical tale from the keyboard.
These dual-track acoustic guitars provide an almost rural feel throughout Animals – in the same way Jimmy Page of Led Zeppelin used them to enrich and balance the electric textures of this iconic band – so perhaps it's an implicit country sensibility. [Or, I might add, somewhat of a "Grantchester Meadows" meets "A Pillow of Winds" vibe as well–MM]
David Gilmour's guitar solos on "Dogs" are truly magnificent, with tons of deep amplifier tones now apparent. The detail in Roger Waters' bass is super resonant, and again, I love the realistic, massive sound of Mason's drums. It hits hard and that dynamism really shines through in the remix.
It was all there on the original, but due to the compression and other mastering techniques used to create the album which would be released in early 1977, the overall impression left behind was not as impactful. On the Remix 2018, the guitars hold your full attention. Just listen to that final comeback moment and that drum crash at the end of "Dogs" – this moment sends a shiver down your spine!
The new edition of Animals is remarkable in many ways. It presents a new take on the album, not only sonically, but also visually, with newly revised artwork inspired by the original photo shoots at the now iconic Battersea Power Station in London. Highlight the architecture – with the floating pig! – from a different angle, as well as a different time and place, somehow makes it even more industrial and weird than the original. Indeed, from the Sony Legacy site we learn the following, presented here in italics:
For this new version, the illustration has been redesigned for the modern era by Storm [Thorgersen]Aubrey "Po" Powell, partner of Hipgnosis. Taking new photos of the building as it appeared during recent conversion works, Po experimented with new angles and produced striking new takes on the classic original. Po explains, "Because the cover of the original 1977 album was such an iconic stand-alone piece of art, I had the chance to update it, which was a rather daunting task, but Hipgnosis took the opportunity to rephotograph the image to reflect a changing world, and using modern digital coloring techniques I have retained Pink Floyd's rather somber message of moral decadence using Orwellian animal themes, the faithful "Algie" pig to the album message.
This new packaging comes with a beautiful full LP-format booklet that is almost worth the price of admission alone! (Said price of admission, by the way, is $29.99, though you can certainly find it for less.) That makes the younger booklet of the otherwise BD and SACD editions pale in comparison. There are also some fantastic images the band shared with us, including images of the inflatable figures that floated above the audience during the 1977 Animals tour, as well as stunning new graphic representations of the characters Dog, Pig and sheep.
[MM adds: Mark Blake also wrote some quite fine liner notes for this Animals 2018 Remix edition that were unfortunately not included in the packaging for various reasons, but you can read them for yourself here.]
Generally, the pressing of 180g of Animals 2018 Remix sounds pretty good. It's dark, well-centered and sonically practically transparent. Well, I start again with another qualifier – virtually. And therein lies the only problem we need to discuss. You may remember earlier in this review where I called attention to the word "almost" in the sentence, "improving the original editions in almost every respect" in my description of the album. And it's really almost perfect, because my vinyl pressings were, in fact, alas, not perfect. So, I think you should be aware of this possible issue if you are considering purchasing the first pressing of this vital Pink Floyd LP.
To know: On the first copy of Pink Floyd's new 2018 stereo remix Animals I purchased from Amoeba Music, there were a few ticks and pops on Side One, which would not go away with normal dust cleaning procedures. I could have almost lived with those, but when I flipped the record over to play side two, the deal breaker was just too annoying – namely, a scratch-like sound at the very beginning of the side opening," Pigs (Three Different Ones)." It was actually super boringas it occurs in a relatively quiet part of the music just before the band kicks into full gear.
You can see the glitchy line at the top of the disc above in this iPhone photo I took – unretouched except for a little contrast and shadow adjustment to make it clearer. You may also notice what looks like "unfilled" sections below this area, but I haven't heard any noise from them yet, after many listens. They can be masked by very loud rocking musical passages, or perhaps my more forgiving stylus setup at the moment – a Goldring 2100 stylus mounted on my Goldring 2400 cartridge body, a setup that was recommended to me by a turntable expert and AnalogPlanet contributor/critic Michael Trei – might overlook them.
Not sure (yet) if this is a press issue or residual printing somehow caused by the packaging. I received a replacement copy, and unfortunately there was the same anomaly. A subsequent discussion with a friend from Vancouver with whom I was at Amoeba when swapping the album – someone who is even more particular and less forgiving about this stuff than I am — told me stories he had read about this issue on social media, as well as recounting his own experiences with his copy in Canada. I have since read a few comments on other notable audiophile forums reporting loud pressings and the like. So take note – there may indeed be worldwide issues with the first run of this version. With all of this in mind, I plan to resume a subsequent pressing of Animals 2018 Remixonce that undergraduate has made its way into the retail food chain.
If all this ends you to buy your own copy of it? Not really – however, having said that, the answer will be depend on your own particular view here. If you enjoy listening to music on vinyl and are a die-hard Pink Floyd fan and collector, you'll still want to hear this LP. Hopefully you can get one of the good copies out there, because there are indeed some available. Happy Animals 2018 Remix listen!
[MM adds: Personally, I'm batting .500 with the two 180g LP copies of Animals 2018 Remix I happen to have in hand myself — one displays some of the issues Mark mentions in his review above, and the other one does not. Hence, we will keep a close eye on this and future pressings of Animals, and report back accordingly. Either way, feel free to share your own Animals 2018 Remix LP listening thoughts — as in, if you have this first pressing of the LP yourself, please tell us what you're experiencing with it and/or what you're hearing — in the Comments section below.]
(Mark Smotroff is an avid vinyl collector who's also worked in marketing communications for decades. He's reviewed music for AudiophileReview.com, among others, and you can see more of his impressive resume on LinkedIn.)
FLOYD ROSE

ANIMALS 2018 REMIX

180g vinyl record (Pink Floyd Records/Sony Music)
In front of

1. Pigs on the Wing (Part One)

2. Dogs
B-side

1. Pigs (three different)

2. Sheep

3. Pigs on the Wing (Part Two)