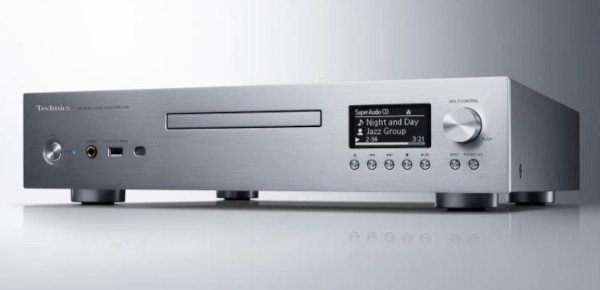 Technics keeps CDs and SACDs alive with new multiplayer
Technics covers all the bases with the SL-G700M2 multi-digital audio player due for release early next year.
Successor to the SL-G700 network/Super Audio CD player introduced in 2019, the new SL-G700M2 ($3,500) allows music collectors to easily play CDs and SACDs and enjoy high-resolution streaming from a high-performance component.
The updated multiplayer provides access to more streaming services than its predecessor thanks to the inclusion of Chromecast built-in and adds MQA decoding, a USB-B input for connecting to a network server or PC, and a "Pure Disc Playback" mode The player also supports streaming via Bluetooth and Apple's AirPlay 2 platform.
The SL-G700M2 benefits from several technical improvements intended to improve sound quality. Chief among these is a new, high-precision ESS ES9026PRO digital-to-analog converter (DAC) that uses "coherent processing" to minimize amplitude and phase deviations that occur during D-to-A conversion. . The processing works with PCM signals up to 192kHz and is said to improve signal purity and clarity. (DSD signals, including those from an SACD, are fed directly to the DAC.)
The DAC also uses a dual mono configuration that separates left and right channels to reduce interference. After D/A conversion, the signal is sent to an amplifier with a "unique discrete configuration" designed to outperform the most common (and cheapest) op-amp circuits.
Technics also paid particular attention to power, equipping the SL-G700M2 with a three-stage switch-mode power supply designed to suppress noise while keeping minute signals intact. Described as "quiet", the high-speed power supply is said to improve stability and reduce noise by increasing the switching frequency and using a discrete circuit structure tuned to optimize the power of analog circuitry. The noise eradication mission does not stop there. The player also uses active noise cancellation to remove detected noise.
In addition to handling MQA files, the SL-G700M2 supports WAV/AIFF playback up to 384kHz/32bit, FLAC/ALAC up to 384kHz/24bit, and DSD up to 11.2MHz.
Everything is housed in a rugged aluminum chassis that isolates the power supply, digital interface, analog circuitry, and drive mechanisms in separate sections to prevent interference and signal degradation. Vibration damping and a die-cast aluminum disc platter are used to ensure high-precision disc playback.
For more information, visit us.technics.com.