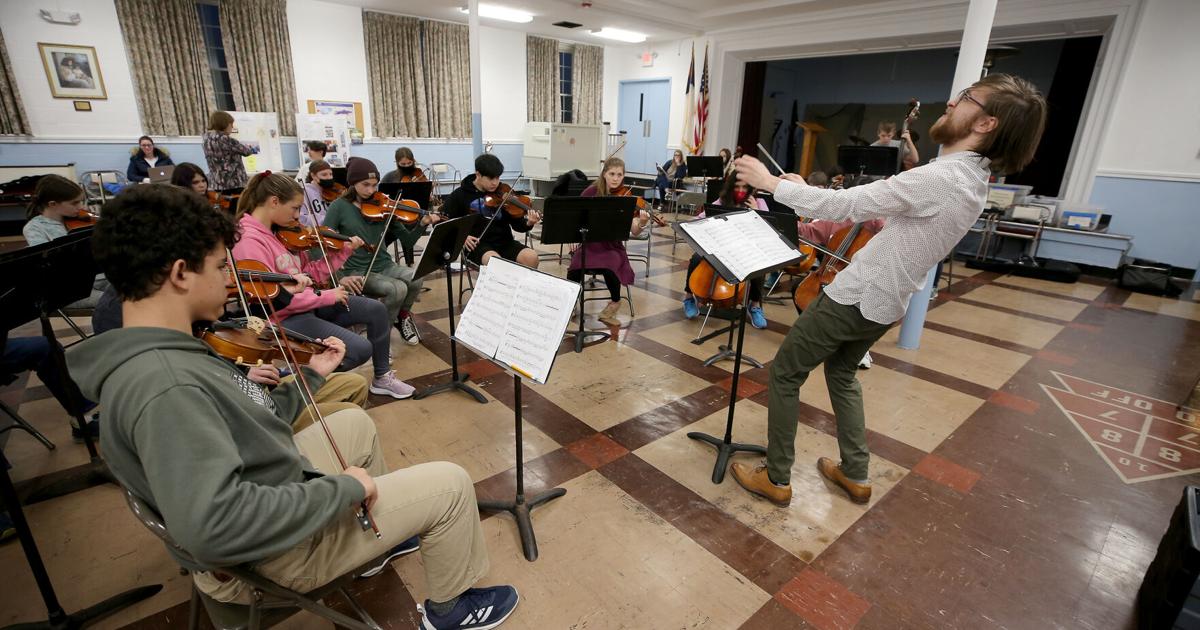 Silver lining: During the gloom of the pandemic, Monroe created the WYSE | Daily news alerts
WESTERLY — It was a gift for cellist Kathleen Curran Monroe that came with plenty of strings.
Monroe, the director of Westerly-based Westminster Youth String Ensemble, said while the pandemic had its obvious downsides, it also had a silver lining.
It was during those dark days, Monroe said, that a bright light and a whole new program — which pairs her young music students with experienced musicians — came into existence: the WYSE Mentorship Program.
At the height of the pandemic, Monroe, 66, a string specialist who was a longtime cellist with the Rhode Island Philharmonic, said she became aware of several musicians in the area who did not have regular opportunities. to perform, teach or coach.
"I knew a young violinist from Cranston named John Castore," she says, "and another young man, a double bass player named Nathaniel Savage, who was in the area taking a break from Bard College.
"I asked them both to join us for rehearsal one day, and as they say, the rest is history." And IJust like that, "The WYSE Mentoring Program was born."
Monroe, who earned a bachelor's degree in music education from the University of Rhode Island and a master's degree in cello performance from the New England Conservatory where she studied cello with David Wells, has herself mentored countless young violinists, cellists and violists over the years.
"We've all been through a transformation," added Monroe, who led the Musica Dolce Youth String Ensemble from 1995 to 2013 before founding WYSE. "And if it hadn't been for the pandemic, this would never have happened. I call it divine intervention.
"I was blessed by their involvement," she added. "It's inspiring. … I want to encourage them and encourage this program."
Castore, she said, is an "excellent, excellent musician" who studied with violinist John Sumerlin – a well-respected music teacher at Rhode Island College and founding member of the Proteus String Quartet – before going to the Boston Conservatory. in Berklee.
"The kids love it," added Monroe, who grew up in Cranston and comes from a well-known musical family. (His mother, the late Aurora Spadea Curran, was a renowned violinist and public school music teacher, the first teacher in the state to work with the Suzuki method that influenced generations of Cranston schoolchildren.)" And he is really a very good teacher.
"Sometimes he'll do sections and work with kids in small groups," she said, "and sometimes he'll do the rehearsals."
Monroe said that when Tom Foley, the director of the community music program at United Theater, called and asked if she could recommend any music teachers, she immediately thought of Castore.
Castore, 26, who lives in North Scituate, travels to Westerly twice a week to mentor, teach and perform with the students of the ensemble who rehearse every Tuesday at Central Baptist Church.
With 55 students from East Greenwich to North Kingstown to Cranston, Castore drives statewide to teach, and he especially enjoys coming to Westerly.
"How lucky I am," Castore said one afternoon last week as he drove between classes. "I'm so grateful for Kathy. …She's amazing."
Mentoring the young students of the Westminster Youth String Ensemble, where, he said, Monroe has created a comfortable, family atmosphere with a real sense of community, is a joy, as is teaching the United program.
At the United States School of Music — an affiliate of the Rhode Island Philharmonic Music School, where class offerings nearly doubled in the program's first year and more than 200 lessons are offered each week — Foley said said Castore was a welcome addition to the staff.
"We love John," Foley said. "He is loved by his students and respected by his peers. We are so lucky to have him on our faculty."
When the school announces its full summer catalog of classes, ensembles and camps next month, "John will be leading our brand new beginner string ensemble," Foley said.
Savage, 23, a resident of Wood River Junction who plays double bass, played for years with Musica Dolce Youth String Ensemble and Westminster Youth String Ensemble.
Monroe said she asked Savage to come to one of the rehearsals at Central Baptist's church hall and he's been invited to lead and coach the students in the lower ropes ever since.
On a recent Tuesday night, Savage, balancing his massive double bass with one hand, leaned over to give instructions to 13-year-old Blake Laney of Voluntown, who was busy rehearsing tracks like "Celtic Sunrise" and "Frog in a Tree". " on his double bass.
"It's important that children have someone to help them while they play," Savage said one afternoon last week as he spoke of his long involvement with the Westminster Youth String Ensemble.
Monroe, called Savage "a fine musician and a wonderful bandleader" and said she was thrilled to have one of her students back in the fold as a teacher.
"They are the next generation," she said, "and they inspire the next generation."
"The kids are great and John is great," said Savage, who said he enjoyed the mentorship program and his work with the bass section.
"But," he added, "the best part is working with Ms. Monroe."
Monroe, the married mother of three, said her students – as well as their mentors – are preparing for their "spring concert", which will take place at Westerly Armory on Sunday May 1 at 2 p.m., and will feature the works of Bach and Mozart as well as some "popular choices".
Monroe, emphasizing her belief that "music is one of the greatest gifts God has given us," said that in addition to offering the new WYSE mentorship program, her ensemble also offers scholarships to all children. who wish to play as a whole.
"We never turn away a child who wants to play an instrument," she said. "My commitment is to bring the gift of music to every child who crosses my path."