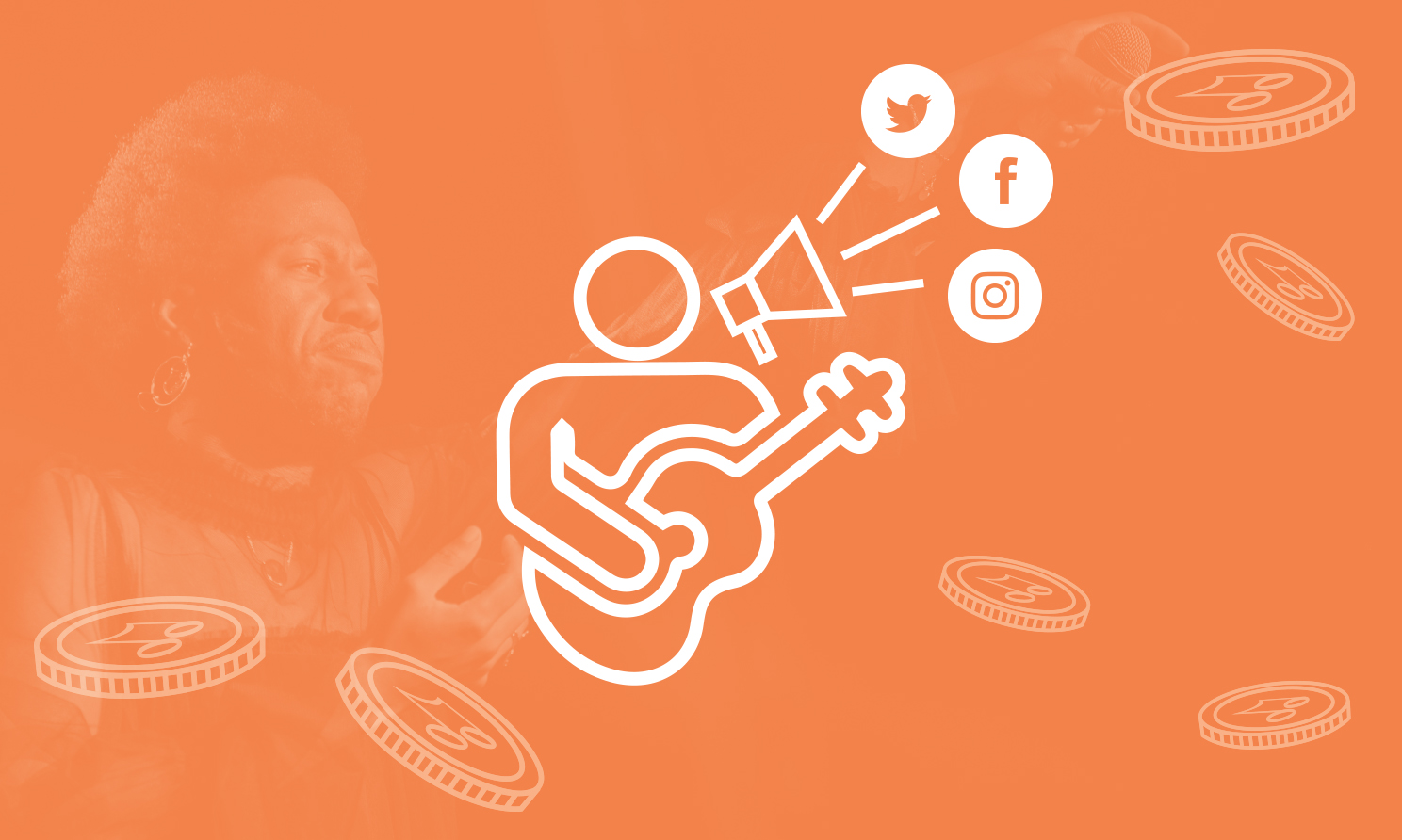 Musicians as Influencers in South Africa: A Guide to Brand Partnerships
With fewer physical spaces to market their brands, companies are investing a large portion of their marketing budgets in social media or influencer marketing – an advertising strategy in which brands employ people with high followings to advertise their brands. products.[2] In this context, brand partnerships – such as ambassadors, sponsorships and collaborations – have become one of the most lucrative sources of income available to musicians.[3]
This article focuses on influencer marketing as a source of income for South African musicians. According to Music In Africa's Revenue Streams for Music Creators in South Africa 2022 report, this is a potentially lucrative revenue stream for music creatives, with product endorsements bringing in an average monthly income of R10. 701 and personal licenses not far behind at R10. 583.
Brand Ambassadors/Recommendations
Popular musicians tend to have a large following on social media, which makes them attractive to brands. As a brand ambassador, "you become an extension of the brand," says Lebo Kgothadi, head of brand partnerships and synchronization at Universal Music Group, one of the industry professionals interviewed during the research for this article.[4]
When an artist becomes the face of a brand, the partnership becomes exclusive. Brands, knowing that artists have thousands of eyes on them, pay them to take on the role of walking billboards, exposing the brand to their fans at every opportunity (although this is, admittedly, usually done in a entertaining and culturally valuable). For example, as an ambassador for Reebok in the late 2010s, AKA could never be seen wearing another competing brand in public.[5] Likewise, hip hop artist The Big Hash is always seen wearing hat-to-toe adidas since partnering with the brand a few years ago.[6]
More recently, Cassper Nyovest used the government's 2020 alcohol ban to brazenly promote its partnership with luxury vodka brand CÎROC.
Collaborations
Between ambassadors and sponsorships, the functions of the artist boil down to marketing the product of a brand. However, some artists and brands have extended these partnerships to collaborations. In this case, the brand and the artist create a bespoke product that bears their two signatures.
Rapper Khuli Chana's partnership with Absolut included an EP (One Source, released in 2017), visuals and a music festival that lasted a few years in the mid-2010s.[7] But the most direct and popular types of collaborations have been tangibles such as championed by American stars Travis Scott, with his popular line of custom Nike silhouettes), Kanye West's best-selling adidas Yeezy sneakers and the Crocs collaboration by Post Malone which is selling out fast. At this point, countless artists have teamed up with many top sportswear and high fashion brands for an exclusive gear release. It's an avenue that currently contributes heavily to the income of musicians at the top of the industry.[8]
South African artists have so far been reasonably successful in following in the footsteps of their international counterparts. In 2019, rapper AKA became the first African artist to collaborate with Reebok on custom Reebok Classics called The SneAKA. The partnership made sense: as a sneakerhead and sports fan, AKA was a perfect fit for Reebok, an athletic brand that had previously partnered with Kendrick Lamar and The Weeknd. And, in another groundbreaking deal, AKA, who has been a Cruz Vodka ambassador for years, collaborated with the brand on a custom watermelon flavor of the brand's vodka.
While the Cruz deal is still intact, Reebok and AKA severed ties in 2019, with AKA claiming it owed royalties for the SneAKA, of which 600 pairs were produced and sold. Reebok, meanwhile, claims to have fulfilled all its contractual obligations.[9] This incident underscores the importance of always clearly understanding the terms of any brand partnership agreement you sign.[10]
Video: Episode 2 of SneAKA
Brands and their cultural impact
Brand partnerships can extend beyond individual artists. Some brands are very good at aligning themselves with entire music genres or art movements. For example, in the 1990s, Sprite aligned itself with hip hop and street culture when the genre was still niche. As hip hop migrated across the world, the brand traveled with it.[11]
In South Africa, Sprite has aligned itself with the genre since its humble days in the 2000s by sponsoring basketball tournaments, hip hop radio and TV shows, and even tours. In 2006 and 2007, Sprite sponsored the Sprite Hip Hoop Tour, which aimed to find unknown talent in all nine provinces of South Africa. Via its Ventilation street cassette series, this initiative was instrumental in discovering local rapper Kwesta, among other artists.[12]
Coca-Cola, meanwhile, has positioned itself as a brand that believes in collaboration. From the Coca-Cola Popstars talent show of the 2000s to The Collaboration, a 2004 album of collaborative songs by the likes of Thandiswa Mazwai, Karen Zoid, Godessa, Skwatta Kamp and many more, this spirit of collaboration has continued. by Coke Studio Africa. This platform, "a convergence of a diverse number of leading African artists coming together to produce exciting new performances and combine diverse genres of music from across Africa",[13] maintains a popular YouTube channel.
Another recent example is how Castle Lite aligned itself with South African hip hop in the mid-2010s. remained a partner for all subsequent Fill Up concerts. The brand also teamed up with Shane Eagle for his Yellow Tour in 2019, and since 2011 has hosted the Castle Lite Unlocks concert series, bringing American superstars such as Drake, Kanye West, Travis Scott and Nas to the helm. poster featuring many South Africans. artists.
Artist-brand partnerships are an extremely valuable source of revenue – although they do require a significant social media following in order to entice brands to work with you. Nonetheless, these marketing deals can help musicians earn money from their social capital and large fanbases. What is advised for artists looking to form brand partnerships is to maintain a clean image by avoiding controversy and remaining authentic. Brands do not hesitate to distance themselves from artists surrounded by bad press and controversy.[14]
Video: An ad for Sprite featuring Drake.
Resources and citations
[1] Ansell, G. (2020). "Almost half of live music workers in South Africa could leave the industry for good." The conversation. Accessed January 13, 2022: https://theconversation.com/nearly-half-of-south-africas-live-music-workers-may-quit-the-industry-for-good-151484
[2] Ward, R. (2021). "How Influencer Marketing Thrived During the Pandemic". ARM. Accessed January 13, 2022: https://www.warc.com/newsandopinion/opinion/how-influencer-marketing-thrived-during-the-pandemic/en-gb/4304
[3] Hall, SB (2020). "This is how COVID-19 is affecting the music industry." World Economic Forum. Accessed January 13, 2022: https://www.weforum.org/agenda/2020/05/this-is-how-covid-19-is-affecting-the-music-industry/
[4] Original interview for Music In Africa with Lebo Kgothadi, Senior Brand Partnerships and Sync Manager at UMG: November 20, 2021
[5] Mkhabela, S. (2020). "Here's everything you need to know about AKA and Reebok's upcoming sneaker collaboration." Alright Africa. Accessed January 13, 2022: https://www.okayafrica.com/aka-x-reebok-collaboration-the-sneaka/
[6] Peyana, A. (2019). "The Big Hash talks about their collaboration with Adidas! » S.A. Hip Hop Mag. Accessed January 13, 2022: https://sahiphopmag.co.za/2019/11/the-big-hash-opens-up-about-his-collaboration-with-adidas/
[7] Adcomm. (2017). "Khuli Chana expands Absolut's partnership with One Source Live – a festival of African creativity". Accessed January 13, 2022: https://adcomm.co.za/khuli-chana-broadens-absolut-partnership-with-one-source-live-a-festival-of-african-creativity/
[8] Interview with Lebo Kgothadi. Same.
[9] IOL. (2020). "Reebok responds to AKA request for non-payment for SneAKA collaboration". Accessed January 13, 2022: https://www.iol.co.za/entertainment/celebrity-news/exclusive-reebok-responds-to-akas-claim-of-non-payment-for-sneaka-collab-47923763
[10] Interview with Lebo Kgothadi. Same.
[11] Same.
[12] Reverb nation. (2022). "Kwesta – About this artist". Accessed January 13, 2022: https://www.reverbnation.com/page_object/page_object_bio/artist_676066
[13] Coke Studio Africa. (2022). "On". Youtube. Accessed January 13, 2022: https://www.youtube.com/c/cokestudioAfrica/about
[14] Interview with Lebo Kgothadi. Same.
This article is part of the Revenue Streams for African Musicians project, supported by UNESCO's International Fund for Cultural Diversity under the 2005 UNESCO Convention on the Protection and Promotion of the Diversity of Cultural Expressions, the Siemens Cents4Sense program, Siemens Stiftung, Goethe-Institut, the National Arts Council of South Africa and Kaya FM.
Editing by David Cornwell and Kalin Pashaliev