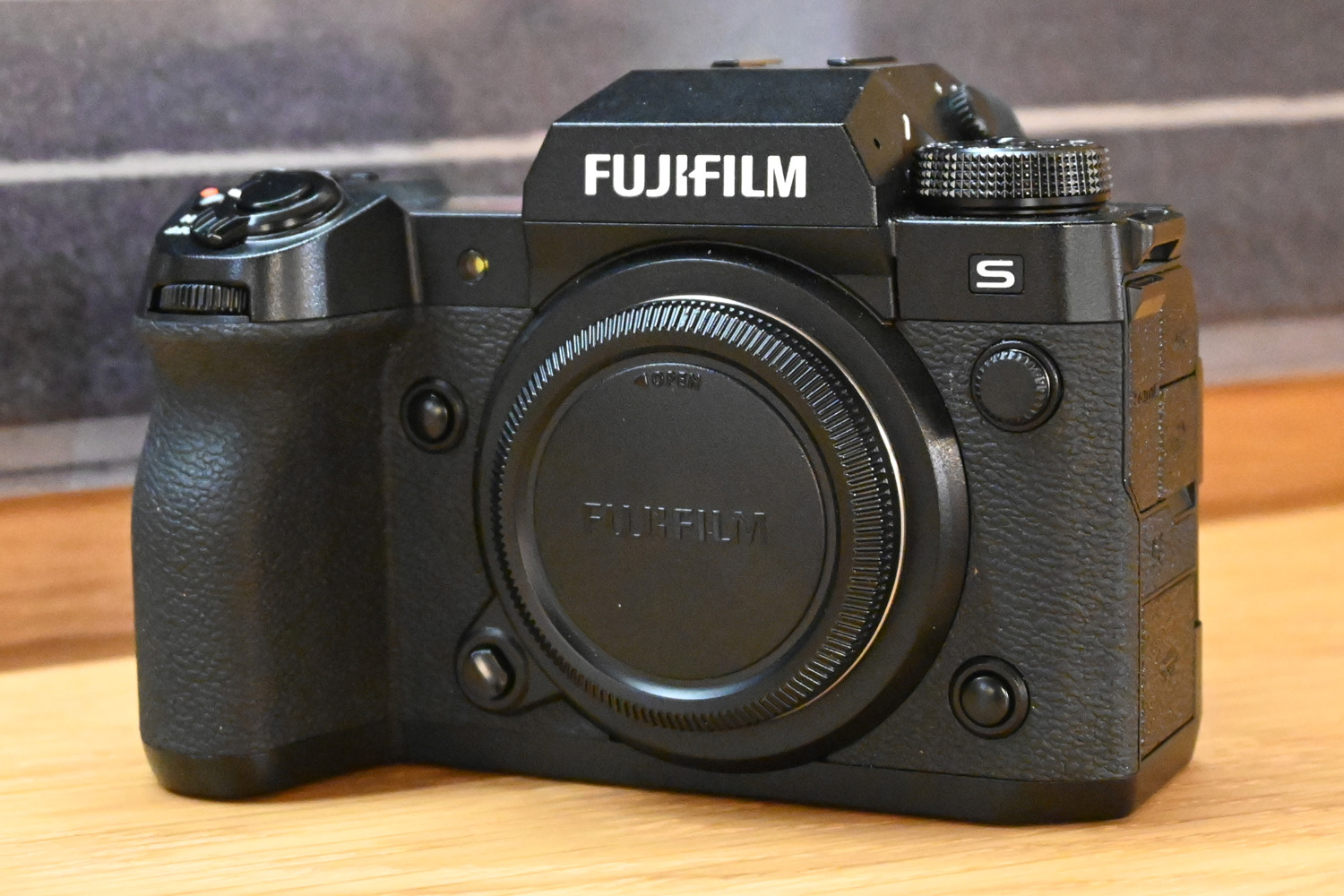 Fujifilm X-H2S hands-on review: Built for speed
Fuji's long line of X-series mirrorless cameras has a new hero. The X-H2S is the company's first CSC with a fifth-generation image sensor, which brings new continuous shooting capabilities that are sure to raise eyebrows among sports photographers. The APS-C model also brought major ergonomic changes and stepped things up on the video front.
It's set to rival the Sony A7 IV, Nikon Z6 II and Canon EOS R6 cameras, at least on price – which, at £2499 body-only, is a huge step up from the outgoing X-H1. In terms of features, Fuji believes it is looking for models that cost significantly more. That pushes it firmly into pro territory, so it'll have to work harder than Fuji's more traditional X-series models to make a good first impression.
There is also a certain reputation to maintain. When we reviewed its predecessor, the X-H1, in 2018, we said it was "the best compact camera Fujifilm has made". Does the X-H2S live up to that high bar?
We were lucky enough to check it out with a pre-production camera before its official reveal.
Fujifilm X-H2S features and construction: keep it simple
It's only slightly smaller than the X-H1, which was rather large for a CSC, but the X-H2S is still brilliantly compact – at least if you don't attach the optional battery grip, which then puts on par with some DSLRs.
The weather-sealed construction is sturdy enough, giving the body a satisfying amount of heft, and the chunky handle provides excellent ergonomics. It's been tweaked slightly from the X-H1 to better suit one of Fuji's more extreme telephoto lenses, like the new XF150-600mm, which weighs more than twice as much as the camera.
Fuji has reduced the number of buttons compared to the first generation model, with those that remain being enlarged and spaced out a little more. This essentially means you don't have to take the gloves off and risk frostbite just to tweak a few settings when shooting in colder climates, which we're happy about.
The biggest change from the X-H1, and indeed any other X-series camera, is the dramatically simplified mode dial. Gone are the twin dials for ISO and aperture, which were layered with metering and drive mode controls. Instead, there's now a single PASM dial, which is sure to massively divide opinion among Fuji fans, but should broaden the appeal of the X-H2S to anyone more accustomed to camera systems. competitors.
Fujifilm X-H2S features: frame and shoot
There may be fewer physical controls, but you still get multiple command dials, and the ISO, white balance, and Fn buttons are all within easy reach, so we had no problem adjusting settings without look away from the EVF. The OLED panel is even sharper than before, with exceptional clarity and response times.
We also like the larger, more tactile focus stick, which is ridged so you can identify it with your thumb without having to look at the controls. It's super sensitive though, requiring a light touch to move focus points around without skipping the point you were aiming for.
The 3-inch vari-angle LCD screen is as versatile as ever, flipping over for low-angle and high-angle shooting, as well as vlogging, though we didn't need to rely on it to check settings at a glance; the top panel LCD just does a better job. The monochrome display shows the essentials, such as aperture, ISO, shutter speed and exposure compensation, and was still perfectly readable even in direct sunlight.
Filmmakers will be pleased to see the dedicated video record button alongside the shutter button, as well as the full-size HDMI output and dual 3.5mm ports for adding an external mic and headphones. We didn't spend a lot of time shooting video, which maxes out at 6.2K resolution and 30fps, has no 30-minute limit, and can be saved in ProRes 4:2:2 and BlackMagic formats. RAW: you will need a CFexpress Type B Card to cope with ultra-large files.
It's the first time a Fuji camera has built in CFexpress support, but there's still good old-fashioned SD for anyone not planning on shooting 6K video. It works well with the fastest UHS-II cards currently on sale.
Fujifilm X-H2S Performance: Blazing Speed
Forty frames per second. It's rather a lot of images in a few blinks. Importantly, the X-H2S does this without power failure, which makes it much easier to track a fast-moving subject. The hair-trigger shutter button easily snaps frames at surprising speed, which requires some adjustment if you're coming from a camera with a firmer shutter release – although the same was true on the X-H1.
Perhaps even more impressive was the camera's fast autofocus, which is able to track the electronic shutter and ensure quick bursts are able to capture the moment. Fuji has tweaked its algorithms to better predict moving subjects, and while it can't compensate for a user who doesn't know the basics, it helps ensure that many more of your shots stay sharp. Face and eye detection work well, and subject detection can detect animals and vehicles with impressive accuracy. 120fps live view ensures that what you see through the EVF is also what you capture – basically nothing this camera does can be considered slow.
In-body image stabilization has also been increased to 7.0 stops of exposure, compared to 5.5 stops on the X-H1, and that really makes all the difference when shooting handheld. You can reduce shutter speed and still get perfectly usable results, and it helps counter a shaky viewfinder image when shooting at extreme telephoto focal lengths.
Typical battery life is apparently good for between 400 and 700 frames, depending on settings, and we didn't manage to drain it during our hands-on session. Pros looking for extra endurance can add the Battery Grip, which can handle over 1000 frames in the most taxing shooting mode, or nearly 2000 at more pedestrian speeds.
Fujifilm X-H2S Image quality: TRANS-formative?
The fifth-generation X-Trans CMOS 5 HS image sensor doesn't make a huge leap in raw pixel count over the older fourth-generation chip, at 26.1MP. The stacked design sensor also retains the same pixel pitch and phase-detection AF points, but improves the rolling shutter to 1/151s. That's an almost three-fold improvement and makes all the difference when shooting video.
What about the still side, though? Based on our early hands-on, Fuji purists have nothing to fear. The colors remain as pleasant as ever, with rich but realistic hues. The film simulation returns to add even more impact, without getting into Instagram filter territory. There's no shortage of detail in any lighting condition, and the sensor is particularly suited to high ISOs.
Crucially, our testing was done on non-final prototype hardware, so fine-grain comparisons with competing cameras will have to wait. The following sample images have also been scaled down from their native resolution, so they are not representative of the final image quality.
Interestingly, the H2S is only half the story of the X-H2. Fuji is teasing a 40MP back-illuminated 5HR CMOS sensor, with an X-H2 set to be the first camera to use it. We hope to hear more in September, but based on early information, the next sister camera will likely be aimed at photographers who care more about pixel count than raw speed.
Fujifilm X-H2S Initial Verdict
If you need speed, the X-H2S seems to have guaranteed Fuji a spot on your shortlist. Continuous shooting performance now puts it firmly among more expensive systems from rivals such as Sony, Canon and Nikon, and improvements in video should help it compete with must-have models for filmmakers.
The ergonomic changes will take some getting used to for die-hard Fuji fans, who may insist PASM is a step too far beyond what the X-series is best known for. The price also makes it comfortably the most expensive non-GFX camera Fuji currently makes.
Based on our limited time with a pre-production camera, we don't think either of these points will deter the X-H2S' target audience. And while we can't pass judgment on the image quality until we've tried the final, ready-to-release firmware, it presents very well. Sports and wildlife photographers in particular should definitely sit up and take notice.
The Fujifilm X-H2S will start shipping to customers in July, for £2499 body-only. We hope to have a full and in-depth review a little closer to launch.
Fujifilm X-H2S Specifications
| | |
| --- | --- |
| Sensor | 26.1MP X-Trans CMOS 5HS |
| Lens frame | X-mount |
| ISO range | ISO80-51200 (extended) |
| Continuous shooting speed | 15 fps (40 fps with electronic shutter) |
| Video recording | 6.2K/30fps, 4K/120fps, 1080p/240fps |
| Filter | 3.0-inch, 1.62-mil vari-angle touchscreen |
| Viewfinder | 0.5-inch, 5.76-mil OLED electronic viewfinder |
| Storage support | CFexpress Type B, SDXC UHS-II |
| Connectivity | USB Type-C, HDMI, 3.5mm headset, 3.5mm microphone, 2.5mm remote shutter, hot shoe |
| Dimensions | 136x93x85mm |
| lester | 660g (with battery and memory card) |