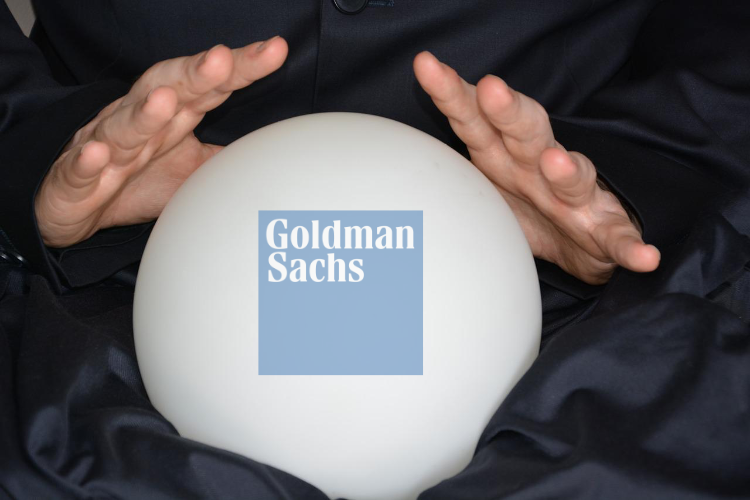 Did Goldman Sachs get his numbers right?
Goldman Sachs has just released the most optimistic report imaginable on the music industry. But how believable are the numbers?
For those who like to run with the bulls, Goldman Sachs is putting Pamplona to shame – at least when it comes to music industry projections. In its latest "Music In the Air" report for 2022, Goldman boldly predicted that industry revenue would hit $153 billion by 2030, up from $87.6 billion in 2022.
That's a big number, nearly twice the size of today's music industry. But either way, that's $31 billion more than Goldman's 2017-18 projection, suggesting growth that even Goldman's incredibly optimistic forecasts couldn't predict at the time. Even this year, Goldman raised its revenue estimate for 2022 by $6 billion, from $81.6 billion previously, based on a resurgent live concert market that it also underestimated.
Registrations alone are expected to reach $53.2 billion in 2030, roughly double the IFPI's last global estimate. It also represents an increase of $7.5 billion, or more than 16%, over Goldman's projection last year.
It's not that these numbers are implausible. Perhaps the industry in 2030 will be even bigger, driven by assets and innovations that we cannot even conceptualize today. But the reality is that there are simply too many unknowns at play, especially over such a long time frame and in a rapidly changing industry.
But even in the present, there are a number of potentially serious issues that complicate Goldman's optimistic projections.
Topping the list is the possibility of a serious plateau of music streaming subscribers, along with plummeting stock market valuations for darlings like Spotify. Right behind is a song IP acquisition market that is probably overheating – and potentially seriously. Perhaps these questions will become moot as the industry gallops toward bigger and bigger revenue records. More likely, they will play a more serious role in the future music industry and potentially complicate its future growth.
Ultimately, these and other complexities make it naïve to predict the future with a big $153 billion sticker.
Perhaps the biggest flag in Goldman's exuberant report concerns premium streaming subscriber growth.
The report's author, Lisa Yang, seems to disdain any continuous cooling. "Streaming shows no signs of saturation," the report concludes. But while Spotify welcomes new premium subscribers every day, the rate of new subscribers is slowing considerably.
Subscriber growth rates that once exceeded 20% year-over-year are now slipping downwards. In the current quarter, Spotify was forecasting a 13% year-over-year increase, which sounds great but represents a noticeable slowdown.
Beneath these high-level declines lies a potentially more serious concern. Some of the wealthiest music fans — in places like the United States and Western Europe — may have already jumped on the paid-subscriber bandwagon. Emerging countries represent huge opportunities, but also lower levels of disposable income and therefore lower ARPU.
This would explain why Spotify charges considerably lower monthly fees in places like India. You need a lot more people – and a lot more infrastructure, support and investment – to make the same amount of money. And that's not even taking into account the intense competition and starkly different consumption patterns that characterize India and many non-Western countries (we recently profiled this with Plern in Thailand).
This does not mean that streaming is necessarily saturated, even in specific markets. But it's a serious future consideration that could complicate the road to $153 billion.
But even with streaming's hazy situation — Spotify reported relatively slow subscriber growth in Q1 2022 — Goldman doubled down on its claim that consumers will continue to spend on music despite "higher inflation/weaker macro environment." ".
Wall Street, however, was not so optimistic. Of course, broader markets are collapsing, although some stocks are collapsing more than others. And Spotify, whose stock fell nearly 60% in 2022 and is worth tens of billions of dollars less, is suddenly slowing its cash burn. This week alone, Spotify reportedly slowed its hiring rate by 25%. The company could also feel intense pressure to increase its monthly subscription rates in an economic downturn amid runaway inflation, a move that could reduce subscriber numbers.
What impact would that have on the trajectory to $153 billion? You won't know that from Goldman Sachs. But perhaps those pesky details don't matter to Goldman given its massive investments in the music space.
Everyone has a game, and Goldman is a major player in the music industry. Goldman helped Spotify navigate its then-successful Wall Street direct listing and has serious interests in areas including music publishing and in-person events. It may have even bigger ambitions, raising questions about whether it's the unbiased projection the music industry needs.
The Goldman party line is that research and investment are separate. And that may be true. But either way, it's hard to imagine Goldman predicting a collapse in music IP valuations or flat streaming revenue. Even a more cautious growth forecast seems unlikely. Perhaps there are too many inherent conflicts of interest to truly separate church and state.
And what about the numbers themselves – as in the benchmark numbers used to create these detailed projections?
A closer look at the data set reveals some interesting questions, especially those relating to inflation. Even in 2017-18, Goldman's charts didn't seem to properly account for inflation. For example, recorded revenue figures for the year 2000 were pegged at $20 billion, even though 17 years of even modest inflation would have pushed those figures well into $30. But even the baselines didn't quite make sense compared to the actual numbers from the IFPI, which were cited as the source data.
Today, the problem of inflation is much more serious – for the music industry and for everyone else. What impact might this have on Spotify's pricing decision matrix? Sounds like another serious question. And the one we couldn't get an answer on – Lisa Yang didn't answer us on the inflation question.
And what about musical NFTs?
Until recently, no one had heard of an NFT, let alone a "musical NFT". Naturally, none of this has been factored into Goldman's previous reports. For Goldman to predict the start of ultra-successful NFT bids from Snoop Dogg and 3LAU would be truly odd. But that's exactly the point: there are limits to this kind of authoritative riddle.
And what about NFTs right now? Strangely, there isn't even a mention of "NFT" in Goldman's lengthy 2022 report. How is it possible?
Perhaps NFTs are on the verge of bankruptcy, as the Wall Street Journal recently suggested and others have rightly predicted. But many have a completely opposite thesis. Look no further than the millions invested in NFT music and crypto-related startups. Even Spotify is stepping into these waters (as Digital Music News first reported).
If it all goes to zero, maybe Goldman should have written "$0" in its report. But maybe Goldman doesn't have a horse in the NFT race – which means he's not on their radar.
Instead, Goldman is focused on the continued growth of short-form video platforms like TikTok, YouTube Shorts, and IG Reels.
Will some of these platforms still be part of the landscape in 2030? Maybe, but their interaction with artists and the wider music industry will be radically different from what Goldman projects in 2022. The "TikTok of 2030" is impossible to conjure up – which is exactly why Goldman's entire projection is better considered an educated guess than a definitive projection.